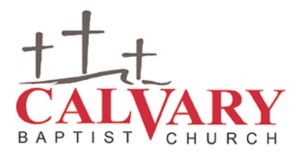 "For from you the word of the Lord has sounded forth. . ."
1 Thessalonians 1:8
About Us | Calvary Baptist Church in Belvidere
Calvary Baptist Church of Belvidere, Illinois
---
"And the things that you have heard from me among many witnesses, commit these to faithful men who will be able to teach others also" (2 Timothy 2:2).
We are a small independent Baptist church that has served the Belvidere and Boone County area for more than 150 years. We exist to bring glory to God by serving our community through the Great Commission. We believe this is the greatest privilege a person can have, so we take our mission seriously.
Jesus Christ gave His Great Commission right before He ascended into Heaven. A commission is an order from a superior in which one is directed to complete a particular task. In other words, Jesus gave His disciples a mission to carry out. Their mission was this: "make disciples of all the nations" (Matt. 28:19–20).
Such an order seems simple enough, but how were the disciples to accomplish their task? Jesus answered this by giving three steps to fulfilling their mission.
(1) Go and find people.
In the Old Testament, God focused primarily on the nation of Israel. Seeing as Jesus' disciples were all Jewish, Jesus had to include this step. Otherwise, they would have focused on their own region. To reach all nations they had to leave Israel.
(2) Baptize people.
There's much to say about baptism. By including baptism as a necessary step of discipleship, Jesus made several things known.
First, they must share the Gospel with those they find since baptism happens after salvation. Baptism is a public announcement of what has already taken place within a person who has received Christ as their Savior. It pictures the death and resurrection of Christ and identifies the person with Him. Baptism is very important, but people must be saved first through the Gospel.




Second, by including baptism, Jesus made it clear that discipleship is not just salvation. Discipleship is what comes after salvation. Since baptism is not a part of salvation, and it is necessary for one to become a disciple, discipleship is the proper stage after salvation.




Third, Jesus indicated that the church's concern for people must go much further than evangelism. Evangelism is expected, but the church's concern should be to minister to others in such a way that it encourages them to take the first step of obedience to Christ—baptism.
(3) Teach people.
This is the heart of disciple-making. The word disciple means "student." It follows then that those who would be students would be taught. In some way, every part of the church's ministry connects to teaching. People need to be taught because the message of the Bible counterintuitive to mankind's fallen nature. People would never know the truth about God apart from His Word, so they must be taught.
While Jesus spoke these words to His disciples He said this commission would continue "even to the end of the age" (Matt 28:20). As a church in this age, Calvary Baptist Church gets to play a part in Christ's Great Commission.
We desire to reach the community of Belvidere with the Gospel and to take others from spiritual infancy to spiritual maturity (Eph. 4:11–13). We are so excited about this tremendous opportunity! We would love for you to join us in this endeavor as we make disciples and sound forth the Gospel of Jesus Christ!