Plan a Visit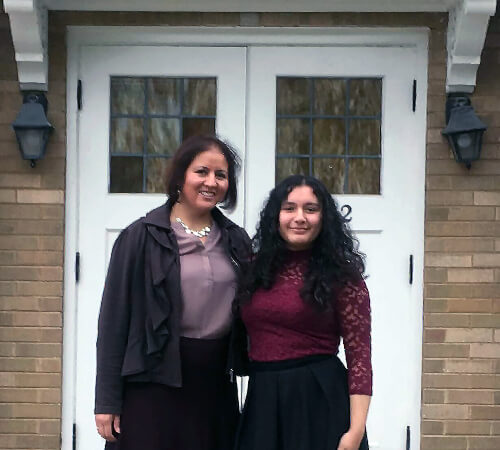 What Are You Waiting for? Visit Us Today!
---
Each Sunday we gather as a church family and worship the Lord through the singing and preaching of His Word. We are always excited to see one another, and we're always eager to see who might walk through our doors. We understand that visiting a new church can be uncomfortable. We want to make your experience great!
Here's what you need to know to make things easy. Our Sunday morning service begins at 10:30. When you pull up, you can find a parking spot right in front. If you would rather park somewhere else, we have permission to use the optometrist's parking lot next door and the Library's lot behind our building.
As you make your way inside, you'll notice how ornate our building is. It was once a Christian Science church, but we praise God that He has redeemed it to be used to proclaim His Word. Once you're in our building, you'll see the doors to our auditorium right away.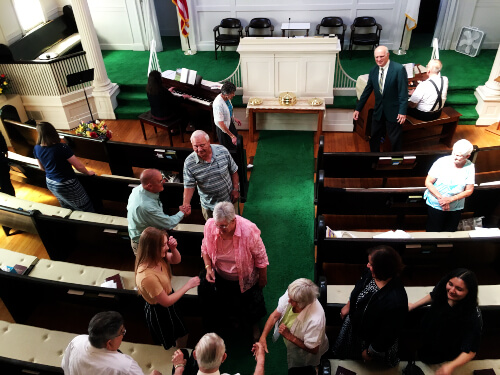 One of our greeters will welcome you at the doors of the auditorium and give you a bulletin and a clipboard with information for you to fill out. If you are uncomfortable giving us your information, that's okay. We just want to get acquainted and stay in touch.
Before the service begins, people will be talking, finding their seats, and getting themselves prepared for our time with the Lord. Our members will be excited to meet you, so we hope you don't mind the attention.
If you have young kids, we will be happy to watch them through the service and share a fun Bible lesson with them.
If you'd like to plan your visit, click the button down in the bottom left. It'll help you schedule a visit so we can be ready for you and your needs and so that you can be ready for visiting a new church. If you'd like to find out more about our worship service, keep reading below. We can't wait to meet you!
You Won't Want to Miss This!
---
Preaching that Packs a Punch
Think about it—how much of the Bible do most of us know?
Sure, if we grew up in church, we might have a smattering of verses memorized, but the Bible has so much more to say. There are more than 31,000 verses in the Bible spanning an average of 1,200 pages. That is a mass of material! How many of us have studied it all?
Could we explain each book of the minor prophets? Could we explain the detailed prophecies of the Old Testament? Could we explain, using Scripture passages, the details of the Rapture, the Millennial temple, or how Christ's government will work when He returns? Yet, God gave us this information and more, and it's important we learn it.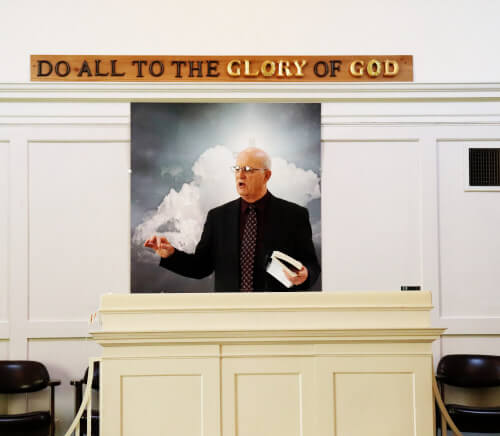 This is where our church comes in. Pastor Lashley doesn't waste time with gimmicks or motivational speeches. He delivers thorough Bible truth right from God's Word in a kind and encouraging manner. He works through the Bible verse by verse so that the Bible is in control and we get it all instead of selective snippets. This means he will preach on every topic, including the person and work of Jesus Christ, God's plan and the end times, eternity, creation, sanctification, false doctrines, and anything else the Bible has to say. No stone is left unturned, and the power of God's Word is unleashed to permeate every area of our lives. We make the preaching and teaching of God's Word our priority, and we hope you'll come to see it in action!
Singing that Saturates the Soul
Look around—churches that offer high-budget, theatrical performances are a dime a dozen. You don't have to look far to find a church following the same copy-and-paste template for their worship services. While this serves the "market" of Christianity, it doesn't serve the soul. Christians today have flipped worship on its head. It's not about serving a customer's needs, as if the church were worshiping their guests, it's about worshiping the only One Who deserves it, God Almighty!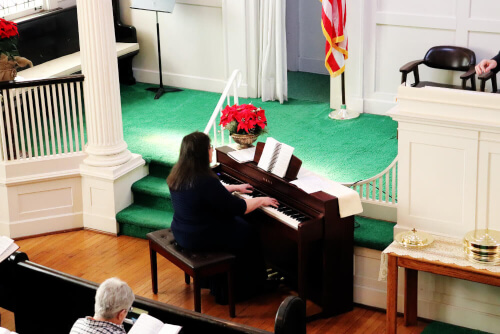 Consumer-driven, supercharged performances might feel "spiritual" and please our senses, but what really is the focus? To magnify God or to gratify man?
At Calvary Baptist Church, we worship God through modest means and eager hearts. Not only would we not be able to compete with large-budget churches, but we would miss out on the intimate and affectionate worship that's prompted by profound Bible truth. Rather than singing the words "You are good" for sixteen bars, we want to dive deep into the magnitude of God's goodness.
Take "Immortal, Invisible, God Only Wise" for example. We can't help but to plunge into thought as these rich words flow from our mouths. Walter Chalmers Smith wrote this hymn in 1867, basing it on 1 Timothy 1:17: "Now to the King eternal, immortal, invisible, to God who alone is wise, be honor and glory forever and ever. Amen." Here are the marvelous words we love to sing:
Immortal, Invisible, God Only Wise
By Walter Chalmers Smith
Immortal, invisible, God only wise,
In light inaccessible hid from our eyes,
Most blessed, most glorious, the Ancient of Days,
Almighty, victorious, Thy great name we praise.

Unresting, unhasting, and silent as light,
Nor wanting, nor wasting, Thou rulest in might;
Thy justice like mountains high soaring above
Thy clouds which are fountains of goodness and love.

To all life Thou givest—to both great and small;
In all life Thou livest, the true life of all;
We blossom and flourish as leaves on the tree,
And wither and perish: but nought changeth thee.
Great Father of glory, pure Father of light,
Thine angels adore Thee, all veiling their sight;
But of all Thy rich graces this grace, Lord, impart:
Take the veil from our faces, the veil from our heart.

All laud we would render; O, help us to see
'Tis only the splendor of light hideth Thee;
And so let Thy glory, Almighty, impart,
Thru Christ in the story, Thy Christ to the heart.
After singing these precious truths, one can't help but marvel at the sheer majesty of our God. That's how worship should affect us. We can't promise spectacular performances, but we will love your presence in our worship.
When you visit, you'll be a part of us, singing the truths of Scripture through beautiful songs. Be another voice in our church family, offering God the praise due Him. We have a place for you!