New Here?
Welcome!
---
We are so excited that you took the time to visit our website!
At Calvary Baptist Church, we are a group of believers in Jesus Christ who are committed to faithfully handling God's Word. Everything we do is centered around the Bible. That's because we believe God's Word has the power to save souls and transform lives. We believe God's Word offers you the same power to meet your deepest need: a growing and eternal relationship with the Creator of the universe, Jesus Christ.
Calvary Baptist Church has a long history and has served Belvidere and Boone County for more than 150 years. It was founded in 1865 but has been at its current location since 2009. So much has happened through the years, yet one thing always remains: Calvary Baptist Church is committed to accurately preaching and teaching God's Word. We encourage you to come be a part of this rich history.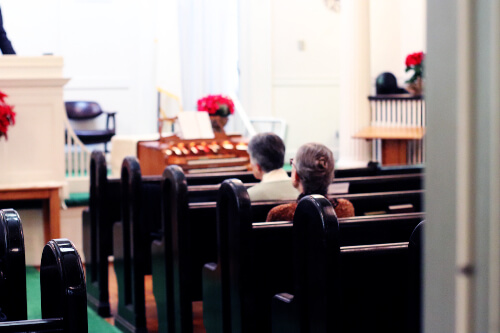 When you arrive, you'll be greeted by a close family of believers who are always glad to have visitors. Our Sunday morning worship service is conservative and provides vibrant music, truth-filled preaching, and sweet fellowship to warm your heart. If you'd like to connect with us, please fill out the form on our Contact page or call us at (815) 544-2998.
Join us this Sunday!
We hope to see you there!
Service Times
---
| | |
| --- | --- |
| Sunday School | 9:30 a.m. |
| Sunday Morning | 10:30 a.m. |
| Sunday Evening | 6:00 p.m. |
| Wednesday Evening | 6:00 p.m. |
The length of our services is typically an hour and fifteen minutes.
Parking
---
Street parking is available in front of the church. We also have access to the Ida Public Library's parking lot behind the church. We try to keep the parking in front of the church available for our visitors.
Location
---
Calvary Baptist Church is located next to the Ida Public Library near downtown Belvidere.