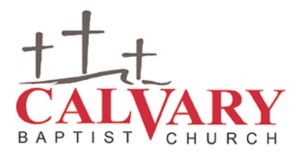 "For from you the word of the Lord has sounded forth. . ."
1 Thessalonians 1:8
Contact | Calvary Baptist Church in Belvidere
Connect with Us!
---
Thank you for visiting our website! We trust it has been an enjoyable experience. Before you go, make sure to listen to our sermons, read our pastor's blog, and find out about the Good News. We offer these to help you with your spiritual needs and point you to the Savior. In addition to our website, our church family would love for you to join us on a Sunday. If you have any questions about our church or the Bible, or if you just need help, please contact us. We want to show you and your family how you can have a personal relationship with the Creator of the universe, Jesus Christ. You can fill out the form below and we will get back to you in 1–2 business days. We are here to minister to you!
From all of us at Calvary Baptist Church,
God bless!
"To Him who is able to do exceedingly abundantly above all that we ask or think, according to the power that works in us, to Him be glory in the church by Christ Jesus to all generations, forever and ever. Amen" (Ephesians 3:20–21).
Office Hours
---
Monday 10:00 a.m.–2:00 p.m.
Tuesday 10:00 a.m.–2:00 p.m.
Wednesday 10:00 a.m.–2:00 p.m.
Thursday 10:00 a.m.–2:00 p.m.
Friday 10:00 a.m.–2:00 p.m.
Saturday Closed
Sunday Closed (for services)
Information
---
Phone: (815) 544-2998
Address: Calvary Baptist Church
312 North State Street
Belvidere, IL 61008
Email: office@cbcbelvidere.org