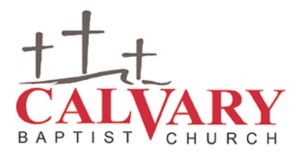 "For from you the word of the Lord has sounded forth. . ."
1 Thessalonians 1:8
Ladies Bible Study | Calvary Baptist Church in Belvidere
Thursday, December 12, 2019 from 10:00 AM to 11:00 AM
Calvary Baptist Church is committed to faithfully teaching God's Word. We make the Bible the center of everything we do, including our ladies Bible study. Our ladies Bible study is led by Judy Lashley, the wife of our pastor. Judy Lashley is a gifted pianist, has many years of experience in education, and as a pastor's wife, has years of experience serving in ministry roles. She is an exceptional teacher and enjoys helping others understand the Bible. The ladies Bible study is currently working through the whole Bible, book by book, and the ladies have relished the opportunity to examine all of God's Word. Whether you have never read the Bible before or you have studied the Bible your whole life, this study will be worthwhile. If you are interested in joining the ladies study, please contact our church office at (815) 544-2998. We would love for you to join us!
Who can find a virtuous wife?
For her worth is far above rubies.
The heart of her husband safely trusts her;
So he will have no lack of gain . . .
Charm is deceitful and beauty is passing,
But a woman who fears the Lord, she shall be praised.
Proverbs 31:10–11, 30
Featuring

Judy Lashley
Event Location
Calvary Baptist Church • 312 N. State St. • Belvidere, IL 61008 • US
Contact Information
Contact: Pastor Dan Lashley
Phone: (815) 544-2998
E-mail: